In addition to health concerns, the COVID-19 pandemic has caused an upheaval of the public sector job market that has left many workers uncertain about their future. With massive layoffs and a hiring freeze, the US unemployment rate increased to 14.4% in April, the highest since World War II. Learn more about the data behind recruiting in a pandemic below.

According to our survey of 23,310 job seekers between April and June of 2020, 51% reported their job status had changed as a result of the pandemic. The top three reasons that caused a job status change were involuntary, including being laid off (32%), reduced working hours (25%), and being furloughed (18%).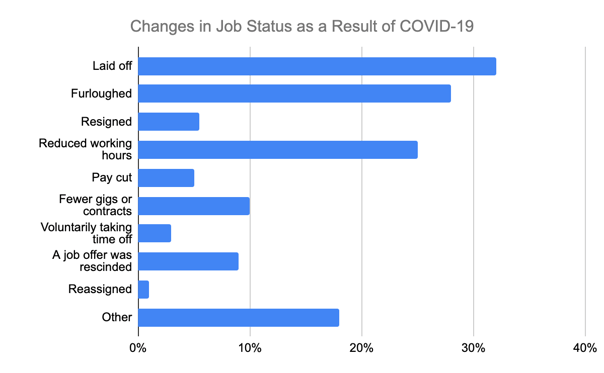 However, seemingly counterintuitively, job seekers have been less active during the pandemic. While the unemployment rate has now recovered to 7.9% as of the first week of October 2020, public sector organizations are still struggling to regain applicants.
Job seekers are submitting fewer applications, which is surprising given the number of people who have recently lost their jobs. At the beginning of the pandemic, the number of job applications submitted per week on GovernmentJobs.com dropped by more than 2,000. Although there was some growth in applications in September, the first week of October 2020 still saw 1,400 fewer job applications compared to the same week in 2019.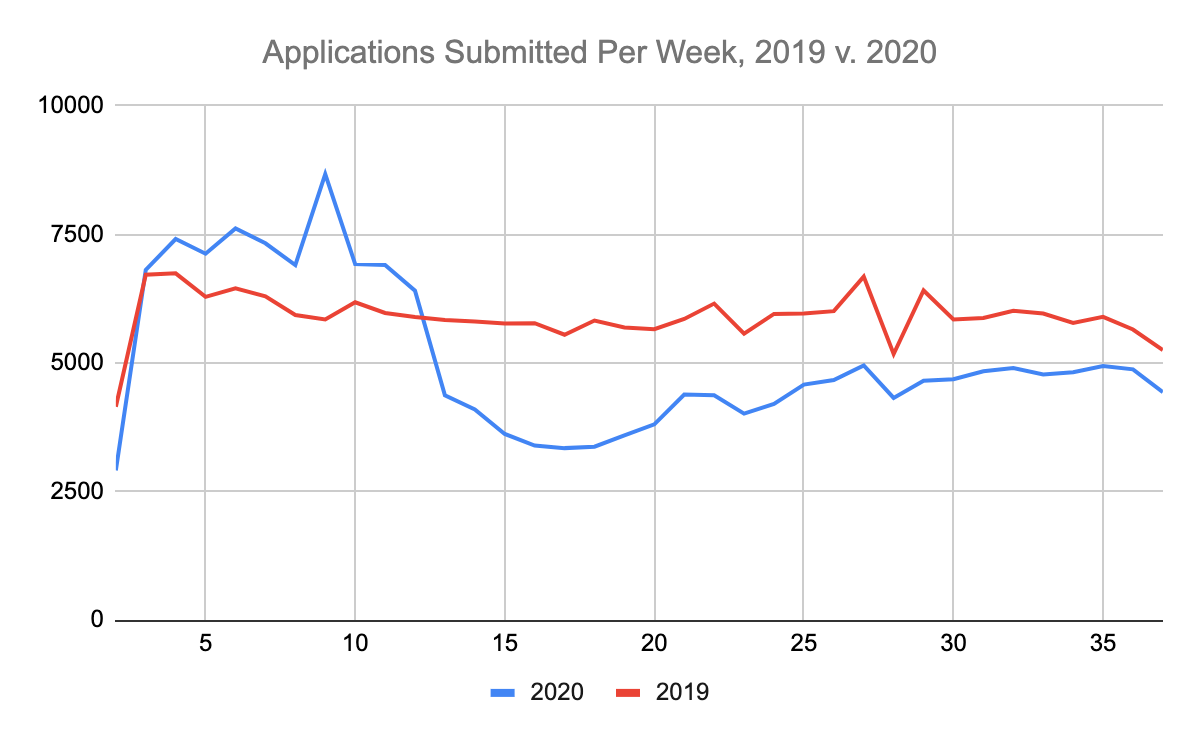 Certain categories saw significant reductions in applications per job. Transportation and Visitor and Convention Bureaus experienced more than 70% fewer applicants to job openings.
There's no question that fewer government and education job requisitions are being opened. In May, we surveyed HR professionals from 241 government agencies and higher education institutions to understand how the pandemic had altered their methods of recruitment. 88% of respondents said COVID had impacted their hiring process, with 27% of those reporting that they had stopped opening new job requisitions entirely.

We've witnessed the same trend on GovernmentJobs.com, which saw a 15,000 decline in the number of job postings created per week between March and May. Although September 2020 saw an increase in jobs posted, public sector organizations still posted approximately 8,000 fewer jobs per week than September 2019.
While some categories have actually seen an increase in job postings since March, the top seven categories that have done so are unsurprisingly in the medical field. The top three categories with the largest increase in job openings are Pharmacy (23%), Medical/Dental (18%), and Medical Examiner (13%).

Similarly understandable, many of the categories that have seen the largest decrease in jobs posted since March include Retail, Visitor and Convention Bureau, Library, and Museum roles. Retail positions have seen the biggest change in the number of job postings, with a whopping 75% decrease.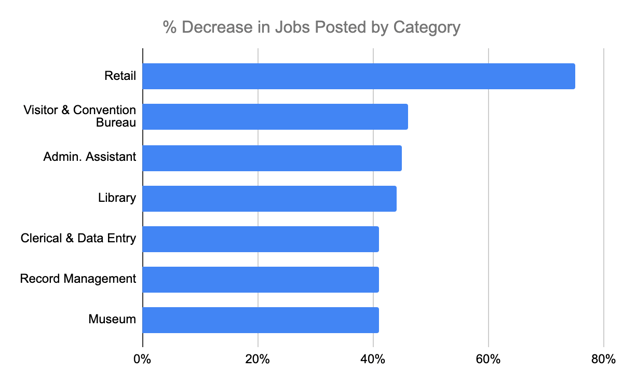 While there's no clear answer to when the country will return to normal, the data shows that public sector recruitment is starting to pick back up. By the week of October 5th through 11th, the number of active job seekers per week had increased to 4.3 million, 1.6 million more than the same week in 2019.
But what about applicants? Prior to the pandemic, there was a significant talent gap with too many public sector jobs and not enough qualified applicants to fill them. The silver lining of a high unemployment rate is the ability for organizations to pick up great talent that may not have otherwise been available. But for some reason, that's not what most government agencies and educational institutions are experiencing. In fact, the week of October 5th 2020 saw 25% fewer applications than the same week in 2019.
If this trend continues, public sector recruitment's "new normal" may look a lot like it did prior to the pandemic -- a continued struggle to attract qualified applicants to public sector job openings.