NEOGOV's partnership with 40+ vendors provides our customers with access to a marketplace of solutions that integrate directly with the NEOGOV platform to allow for seamless sharing of data across systems. We have already facilitated over 1,000 integrations and continue to partner with vendors to offer more solutions to support the entire employee lifestyle.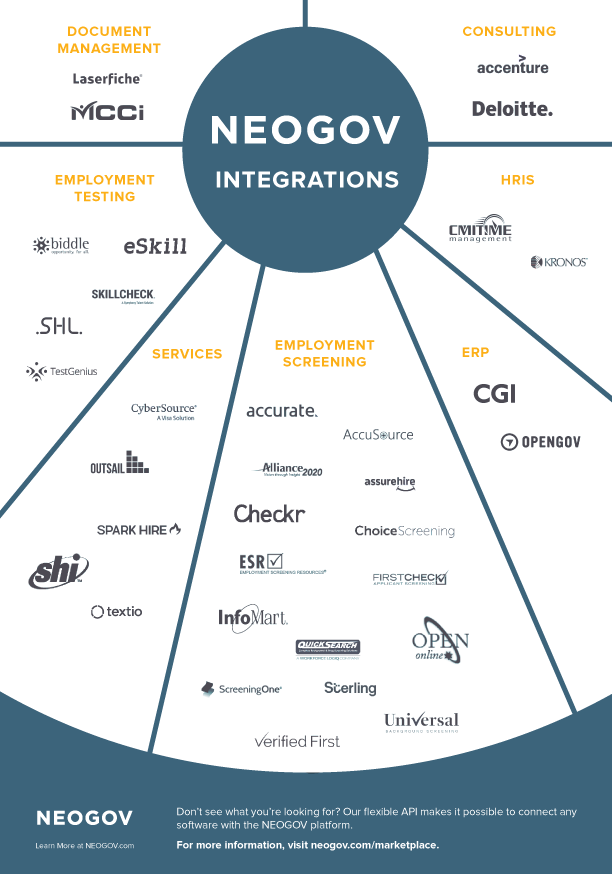 Our partners and integrations include employment screening, document management, HRIS services, and more. Here's some information about the types of software integrations we offer:
Employment Screening
Initiate comprehensive and compliant background checks from within our applicant tracking system, Insight, for a reliable and complete look into a candidate's past to confirm qualifications.
"We have faster processing times and better visibility into the background check process now that we use Insight and Checkr. The data is stored in NEOGOV's Insight, so we know it's secure and only accessible to authorized HR personnel."
-Brandon Figliolino, Recruiting Technician, Boulder County
Document Management
Automate the transfer of all your employee records and paperwork from your NEOGOV products to a centralized document management solution for easy management and retrieval.
Consulting
Work with one of our consulting partners to get actionable insights and data to help your organization operate more efficiently and mitigate risk.
Services
Enhance your usage of NEOGOV with a variety of services, from safely processing online payments and streamlining online fraud management to facilitating government procurement with purchasing tools while maintaining compliance.
Employment Testing
Integrate a variety of online assessment providers with your NEOGOV applicant tracking system, Insight, to automatically view exam data alongside candidate skills, experience, and job fit all in one place.
The City of Los Angeles uses the TestGenius online testing integration from Biddle with NEOGOV's applicant tracking system, Insight, to streamline the transfer of up to 100,000 test scores per year.
-Jessica Didway, Senior Personnel Analyst I, City of Los Angeles
HRIS
Connect your NEOGOV products with your existing Human Resources Information System to increase efficiency and eliminate redundant tasks as you manage your workforce's payroll, tax, and benefits needs.
ERP
Connect your existing Enterprise Resource Planning (ERP) system with the NEOGOV platform to centralize complex and specific business processes for your organization, such as automating tedious timekeeping and payroll functions while remaining compliant.

We are continuously adding new vendors to our marketplace, so visit neogov.com/marketplace to see the most up-to-date offerings. If you still don't see what you're looking for, our flexible API makes it possible to connect any software with the NEOGOV platform. Book a demo with our integrations specialists to learn more.