For those familiar with NEOGOV's invigorating user conference at The Mirage in Las Vegas, this year's user conference looked a little different. No less exciting, but safer in the time of the Coronavirus pandemic, NEOGOV's 20th annual Connect user conference went virtual for the first time.
With over 1,600 HR professionals from the public sector and educational institutions and a jam-packed schedule of keynote speeches, breakout sessions, product training, and friendly competitions with prizes, virtual Connect proved that we can all stay safe in our homes and offices while coming together to learn and network with colleagues across the country.
The two-day event kicked off on Wednesday, October 28th with opening remarks from NEOGOV's CEO Shane Evangelist and CRO Matt Redden to get the audience hyped. The event chat bar was immediately active, with attendees shouting out where they were watching from, responding one another's comments, and reacting to what was happening on-screen.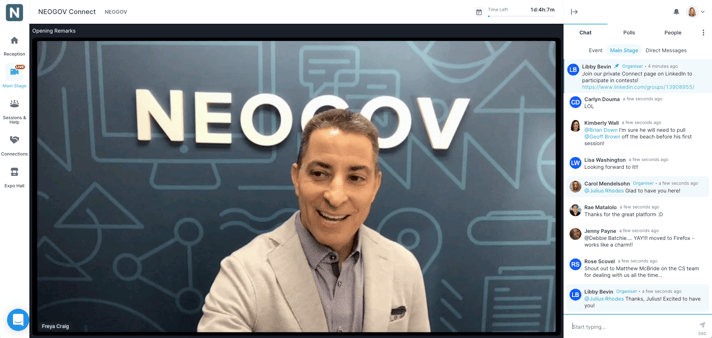 The big reveal of the new upcoming Unified Suite led by NEOGOV's Senior Principal Product Manager Luigi Naguit saw a burst of activity in the chat bar. Attendees were thrilled to see the cohesive product suite that will allow for better visibility and advanced reporting across the workforce, expected to launch in 2021.
Next up was a thought-provoking keynote speech by Baratunde Thurston about striving for equality. Thurston filled the "stage" with his charisma by personally engaging with the audience, including specific attendees. We were all thrilled that Jenny Payne's technical issues were solved in time for the keynote!
Thurston gripped viewers with a powerful speech about what it means to be Black in today's America and concluded with an uplifting message that encouraged everyone to take part in the continuous mission to promote justice and equality.
After the keynote, attendees got the inside scoop on Insight's 2021 Roadmap from Product Director, Michelle Cline followed by a variety of breakout sessions, including a very popular case study on how the City of Portland reduced their time-to-hire using NEOGOV Insight, which drew over 500 people.
Later that day, Shane brought attendees back to the main stage to share the latest research on how organizations can solve the challenge of underperforming job postings. Find the full report HERE.
To round out day one, attendees chose breakout sessions on topics such as "Maximizing the Value of Feedback with 360 Reviews" and "Leveraging Exit Interviews." During several breaks, attendees had the opportunity to learn about integrations from an exhibitor hall with partner booths or network one-on-one with their peers through a unique video matchmaking feature.
Day two of the virtual conference kicked off enthusiastically with an Afro-Zumba class joined by over 600 people looking to get their early morning groove on with NEOGOV's own Mykesha Mack.
Reminding everyone that it was the week of Halloween, CRO Matt Redden greeted attendees in costume, joined by NEOGOV Sales Manager, Aaron Bingham. Together they got the audience "pumped up" with their own take on the popular 80's Hans and Franz SNL skit series.
Matt "Hans" Redden introduced keynote speaker, Prince EA, a spoken word artist with millions of YouTube subscribers, who wowed the audience with a moving talk about living every day with passion and finding meaning in your work.
The audience was then treated to a sneak peek of new data from NEOGOV's upcoming Diversity Report that revealed glaring inequities within public sector hiring and how to overcome them. Subscribe to our blog to be notified when the Diversity Report is released.
With choices like "5 Tips for Coaching Employees During Check Ins", "The New Open Enrollment Experience", and "Creating an Outstanding Candidate Experience", attendees had their pick of back-to-back breakout sessions.
Later, attendees learned how James Murray, Senior Human Resources Analyst from the City of Anaheim, reduced their cost per applicant to an average of $2.55 using the Job Boost feature in NEOGOV Insight. Learn more about Job Boost HERE.
In a joint presentation by Accenture, the National Association of State Chief Administrators (NASCA), and NEOGOV, attendees learned why succession planning and workforce management must be top priorities for government leaders. The data shared is a result of the second in a series of research reports. Download the full 2020 Job One Report HERE.
After a fireside chat where CRO Matt and Amy Berg discussed how to manage a hybrid workforce while promoting psychological safety, Matt wrapped up Connect by announcing winners of social media contests, like the best Halloween costume and the most creative touchless handshake video.
Following through on a promise to donate 100% of the event's proceeds to charity, the event ended on a high note where the results of a vote on how the funds should be split among three chosen charities were shared. A total of $63,524 was split and donated to Make-a-Wish Foundation, NAACP (the National Association for the Advancement of Colored People), and TFA (Teach for America). Thanks to all of our attendees for making a difference!
It is our hope that next year we will be together again in Las Vegas, so save the date! Join us for next year's Connect conference in October. We'll be hosting product training on October 5th and the conference will take place on October 6th and 7th, 2021. Find out more information at neogov.com/connect.