As the sun rose on the Mirage Conference Center in Las Vegas on Tuesday, October 8th, the NEOGOV team was excitedly anticipating the start of the CONNECT 2019 User Conference. The registration bags were all packed, filled with goodies like a Yeti water bottle with the NEOGOV logo and a colorfully designed agenda jam-packed with both valuable sessions and fun events. The team was prepared for the kickoff of CONNECT, a user conference designed to bring public sector HR professionals together to learn about NEOGOV products and enhancements, interact with their peers, and gain insight into the state of public sector hiring.
The event kicked off on Monday night with early registration for Tuesday's pre-conference training sessions. Tuesday morning brought 500 public sector HR professionals who were eager to gain a deeper understanding of their agency's NEOGOV product. With eight training courses on varied topics such as Insight's Recruitment Life Cycle, an overview of Onboard, and Perform Advanced Topics, attendees left the day-long training with more advanced and in-depth knowledge.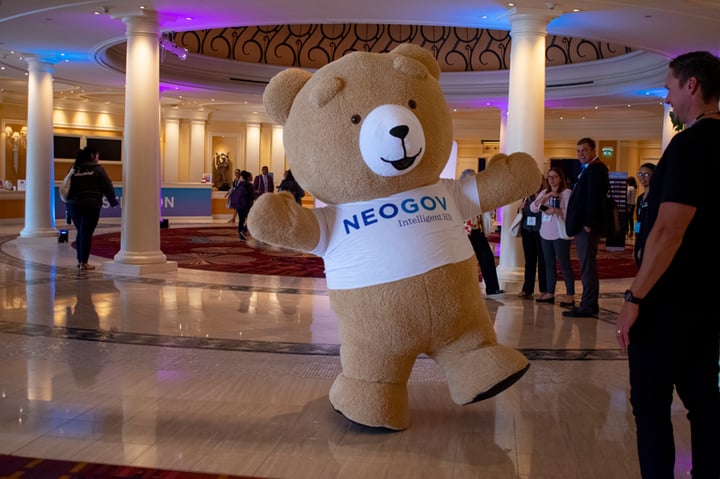 While not every CONNECT 2019 attendee elected to also register for the pre-conference training, nearly two-thirds did. Implementation Consultant Caitlin Moore led the Perform Basics training session, and explained that "the purpose of the pre-conference training is to provide in-person assistance with our products and to give customers training in new functionality, use case examples, and how to best use the features in our system."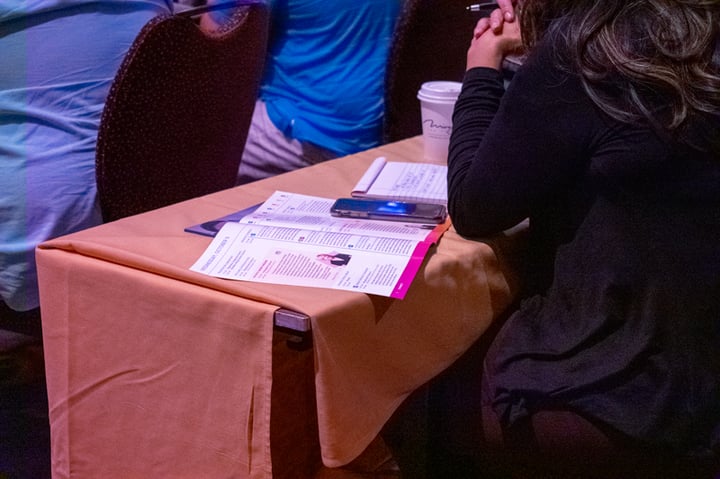 With the main conference taking place the next two days, Wednesday morning kicked off with a flurry of activity. Over 800 public sector (from government and higher ed) HR professionals gathered, picking up their complementary NEOGOV t-shirt and hoodie from the Swag Shop, enjoying the breakfast buffet, and making their way to the opening presentation.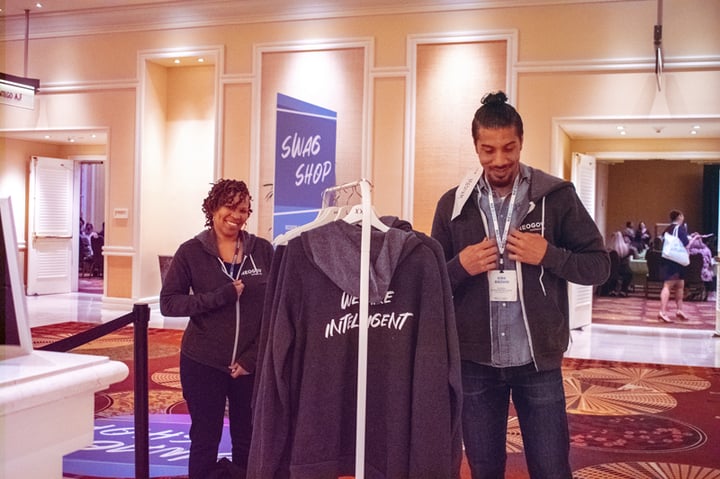 NEOGOV CRO Matt Redden kicked off the day with an enthusiastic introduction, accompanied by the beloved NEOGOV bear mascot. After livening up a tired crowd, Matt introduced CEO Shane Evangelist, who expressed his gratitude to the now-excitable attendees and announced that NEOGOV is a team that "serves the people who serve the people."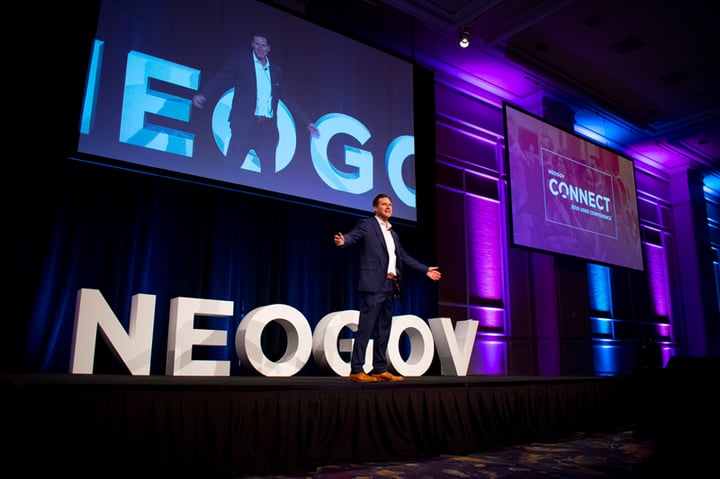 Shane explained the evolution of HR software and what the future looks like for NEOGOV, including a newly introduced research arm that is focused on using years of NEOGOV data to help the public sector understand their recruitment challenges and ways to overcome them. Providing attendees with NEOGOV's 2019 Job Seeker Report and Hiring Trends Report, Shane armed the audience with data they need to understand the current struggle to fill open positions.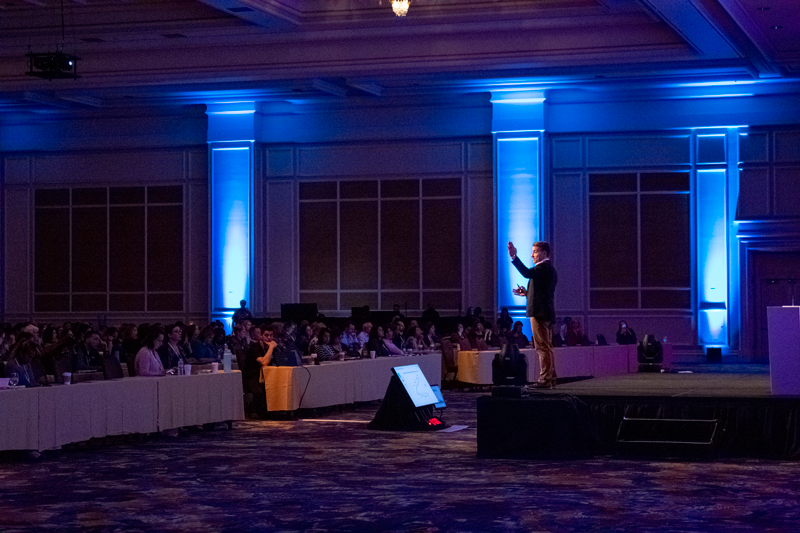 Next to the stage was Ginger Hardage, the former SVP of Culture and Communications at Southwest Airlines. With thought-provoking soundbites like "culture is contagious," Ginger wowed the audience with an engaging keynote speech about the importance of creating Unstoppable Cultures, giving employees freedom within a framework, "hiring tough", and setting the right tone for employees to thrive.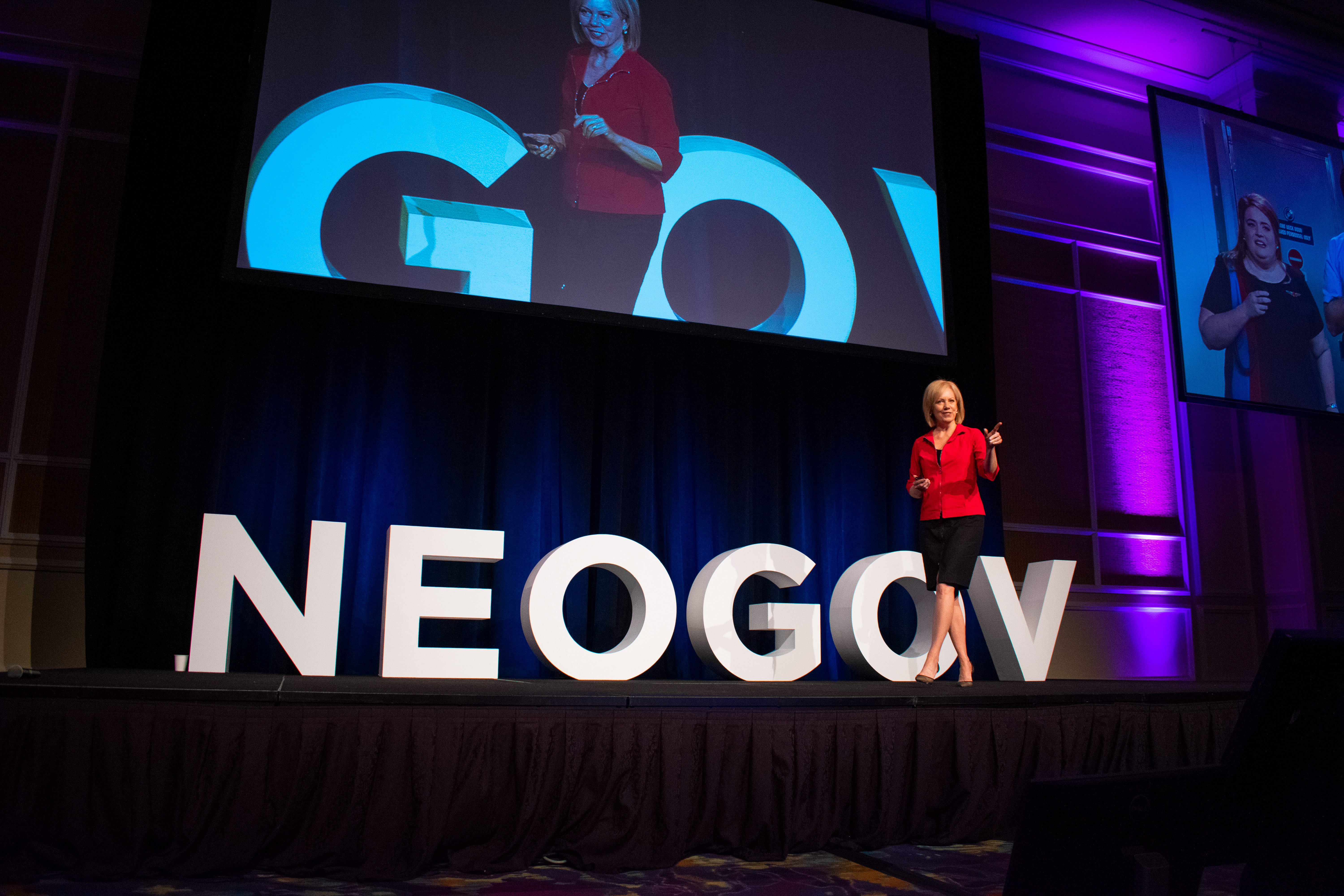 After a bustling morning, attendees enjoyed a coffee and snack break where they mingled with peers before hearing from Insight Product Director Michelle Cline about what's on the docket for Insight, NEOGOV's applicant tracking solution designed for the compliance needs of the public sector. From there, attendees split off to one of four captivating sessions, like the Onboard and eForms Roadmap or How to Leverage Key Insight Features. Meeting back up for a delicious lunch, attendees ate and networked. Those who were traveling alone sat at thoughtfully designated tables for solo travelers looking to meet other people.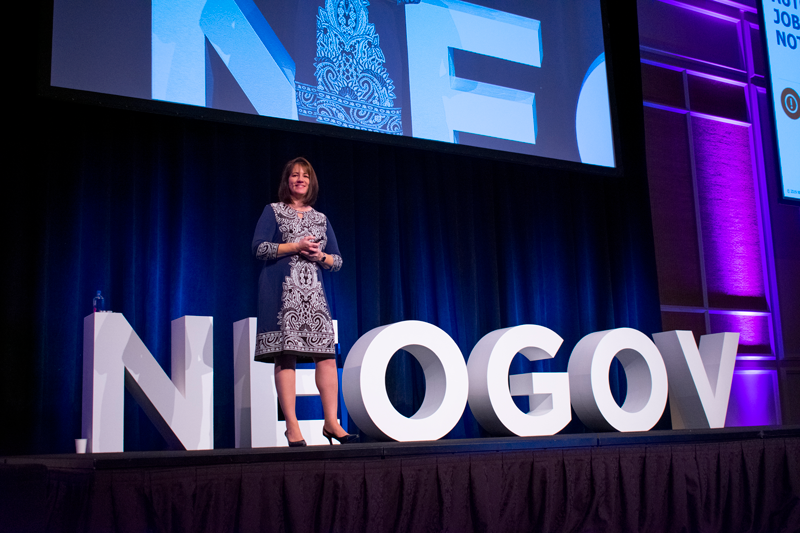 The learning continued after lunch, with an interactive keynote speech from Jennifer Lee, challenging participants to confront their Unconscious Biases and gain an understanding of how their biases change the way they think, communicate, and act at work. There was a cacophony of voices as attendees participated in "Bias Buster" exercises with a partner, designed to uncover how the brain works and ways to mitigate bias to build a positive, inclusive workplace.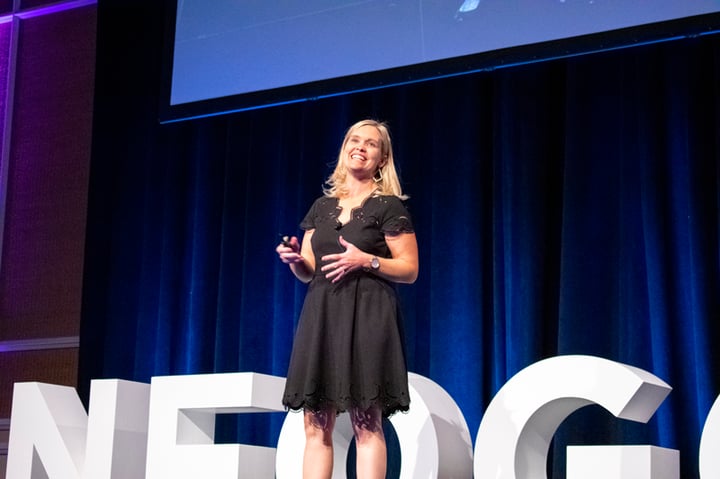 After two more select-your-own sessions, with topics varying from Keeping Top Talent on the Hook to Increasing Your Attractiveness & Reach, and another coffee and snack break (we like to keep our customers fed!), attendees broke out into smaller groups for roundtable discussions.
Through the roundtables, attendees discussed how they are leveraging key Insight features, which features they would benefit from being added to the applicant tracking system, and how their peer organizations are utilizing the product effectively. Business Analyst Shalonda Morthel explained that the roundtables "help organizations see what other customers are doing. The collaboration is really great, and it also allows us at NEOGOV to understand the difficulties they are having and how we can help."
With that, the day filled with learning was done and it was time to enjoy a Night Out with NEOGOV. After a couple of hours to rest and freshen up, conference attendees met in the conference lobby to be bussed over to TopGolf for an exciting night of golfing, a buffet, a magician, dancing, a photo booth with props, an open bar, and a group of silhouette artists.
For those who danced the night away at TopGolf, Thursday morning was an early start. With another delicious breakfast buffet, where new friends enthusiastically chatted about the previous night's entertainment, the last morning of the conference promised a day full of more insightful sessions and meaningful discussions.
Starting the day off strong with an energizing morning keynote speech, Crystal Washington captivated the audience with an enthusiastic presentation about Recruiting in the Digital World. Through the presentation, Crystal helped the audience understand how to leverage technology in strategic ways to recruit more efficiently and build stronger connections with candidates of all generations.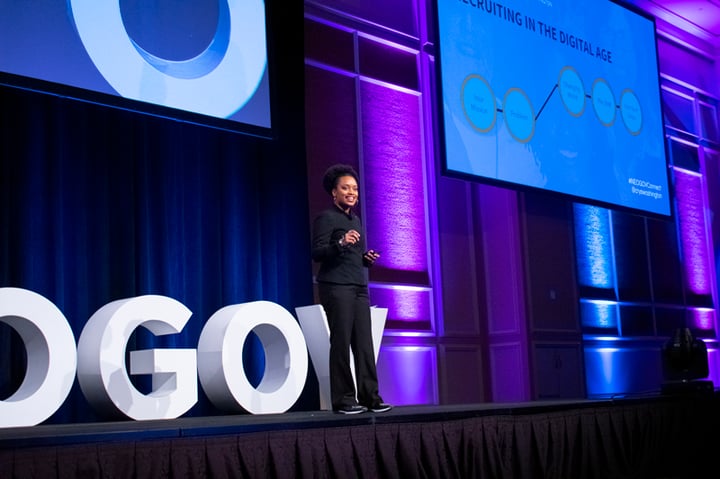 After Crystal's keynote, it was time for the awards ceremony to thank and acknowledge the diligent work of our customers, including awards for Product Advocates (City of Kent and City of Sonoma), NEOGOV Advocates (Cowlitz Public Utility District and Pierce Transit), Insight Pro (County of San Diego), Process Innovators (State of North Carolina), Innovations in HR (City of Rancho Cucamonga), and Most Collaborative agency (King County). Last, but certainly not least, Susan Wilmore from the State of Michigan was awarded the Lifetime Achievement Award for her customer feedback that has shaped NEOGOV's products in meaningful ways over the last 12 years.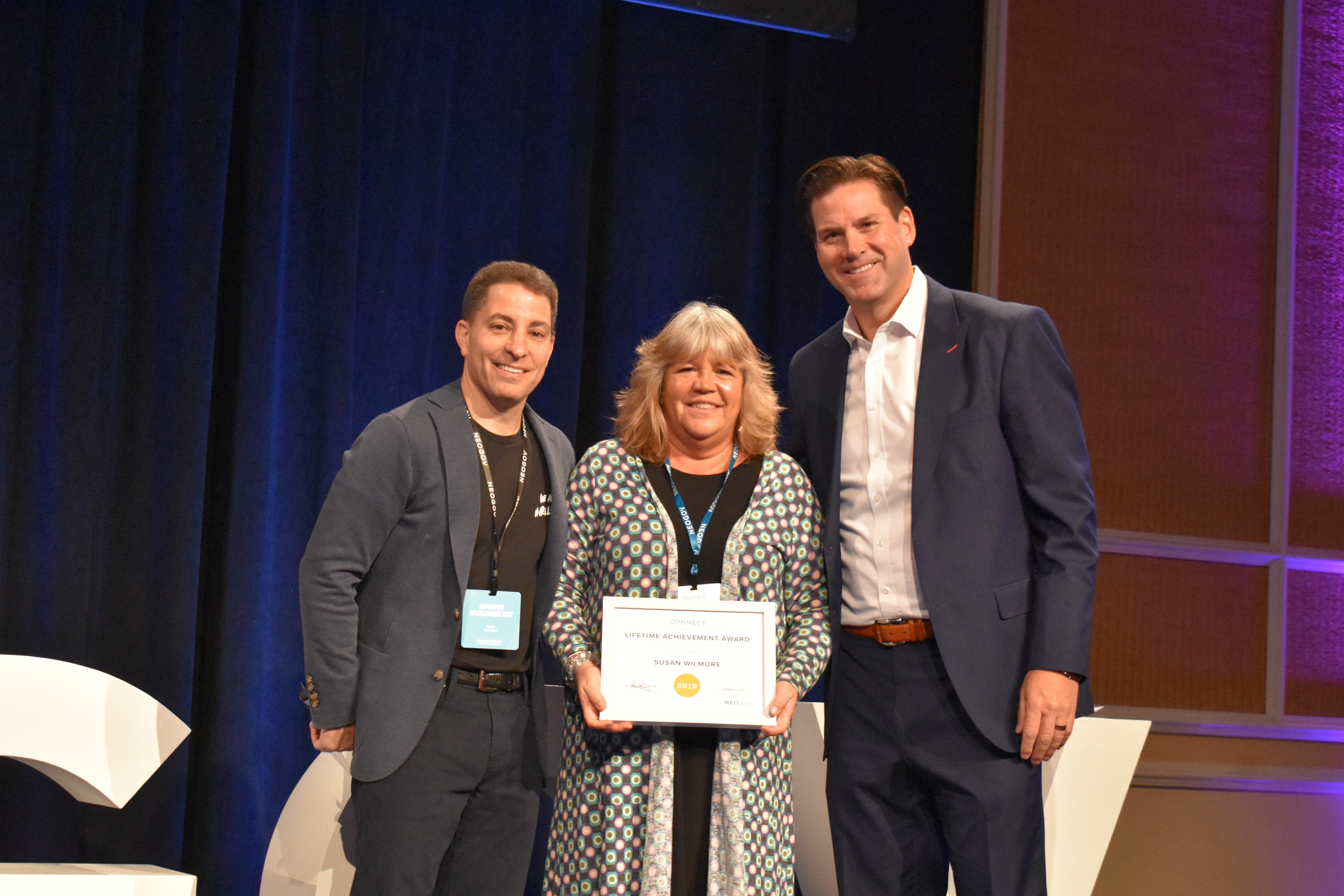 After awards, attendees again split off into a session of their choosing. With two sessions and a coffee break before lunch, attendees chose sessions from a variety of topics from Understanding Analytics to 5 C's for Successful Onboarding.
As the end of the conference loomed closer, attendees enjoyed a delicious Mexican buffet, with fresh guacamole, rice, beans, enchiladas, tortilla soup, and more as they discussed what they had learned in their sessions.
Some attendees left lunch early to film their customer testimonial video or to get help from Customer Support in a quick 15-minute Speed Consulting session. "Speed consulting is very much like calling the support line, but it's nice to do it in person because you get an extra level of engagement with the customer," Customer Support team member Nick Manos said. "For me, the best part is putting faces to names, because we talk to customers every day, so it's nice to actually get to help them in person."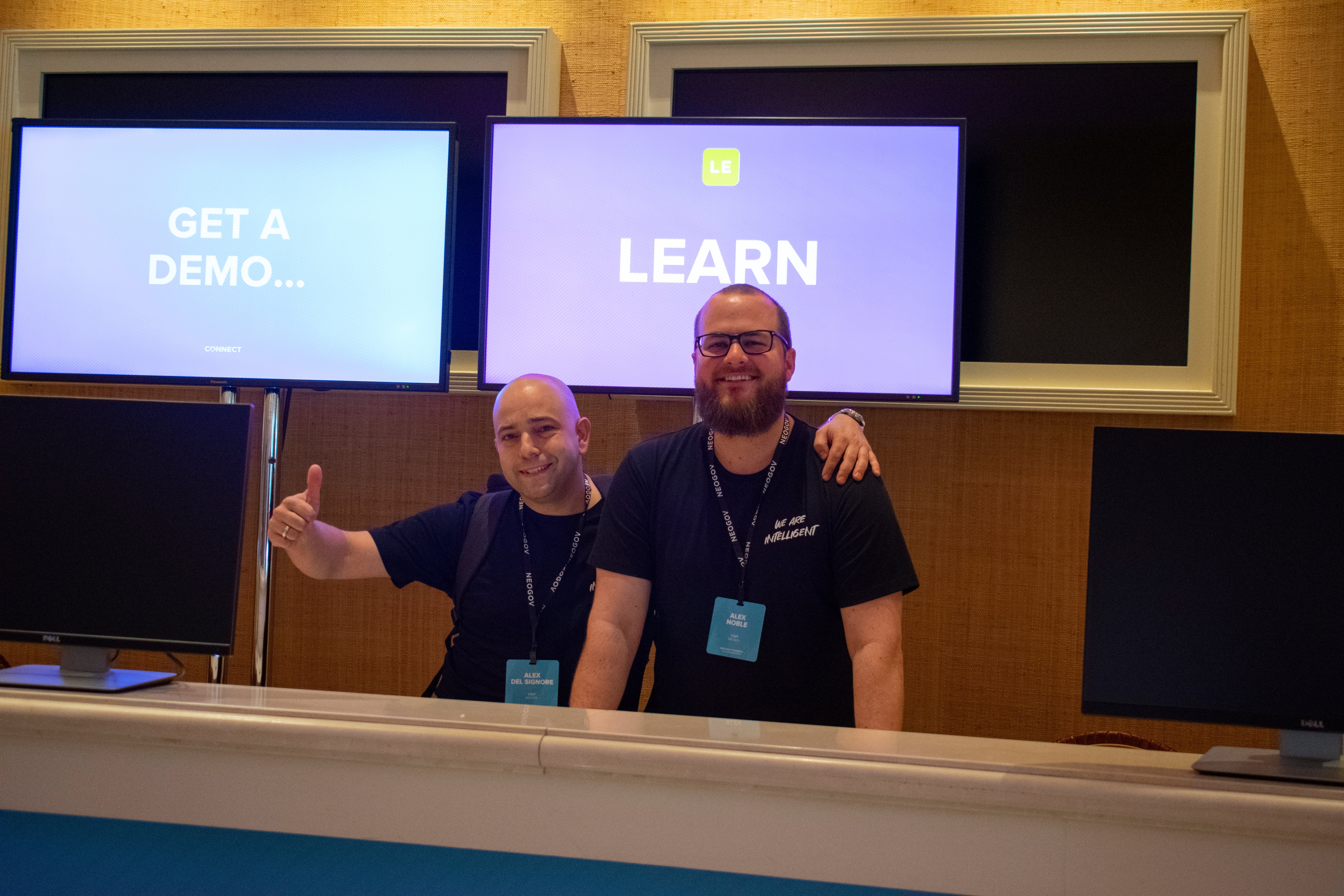 In the final general session, attendees gathered to hear about NEOGOV's recent joint report in collaboration with NASCA and Accenture, Job One: Reimagine Today's State Government Workforce. CRO Matt Redden and Strategic Advisor Bob Oglesby explained that as the public and private sectors battle for talent, state government is falling too far behind in preparing for the workforce of the future. Matt and Bob armed the audience with ways to overcome this talent gap and attract the best talent.
After a roundtable discussion to understand how agencies are looking to the future and implementing succession plans, it was time for the closing reception. With a spread of food, drinks, and prizes for social media engagement throughout the conference, attendees were in high spirits as the event wrapped up.
Thank you to everyone for an awesome trip! While my biggest take away is my new social media credential, there was a lot learned over the last 3 days. Until next year! #NEOGOVCONNECT @neogov pic.twitter.com/Zb5r1I2Vxj

— Jake (@JakeShirk_ES) October 11, 2019
As NEOGOV event organizer Freya Craig surveyed the closing reception after working tirelessly to ensure a successful event, she was thrilled with the outcome. "The event was a huge success! It's great seeing customers get to network with each other and our staff members," Craig said. "I love seeing how engaged they get when sharing ideas with one another, and I couldn't believe how competitive they were in the app challenge, or that we had such high participation in all of the additional activities we planned."