Organizations that embrace diversity are more innovative and do a better job of meeting community needs. A lack of diversity can inhibit your organization's creativity and even make you the focus of public criticism.
The markers of diversity are diverse. There's race, ethnic group, gender, cultural background, age, disability, and more. Valuing diversity also means welcoming those with a range of experiences, perspectives, education, and ideas.
With all that to encompass, how can you change your recruitment approach to cultivate a more diverse workforce?
1. Show diversity in your recruitment materials
Update your recruitment materials to showcase a visibly diverse group of employees. While you can be a bit aspirational, don't stray too far from reality. Potential employees can be turned off if your materials misrepresent the true diversity in your workforce. And never manipulate real staff photos and information to alter the diversity they show.
2. Offer testimonials from current employees
Testimonials let your employees speak about the ways your organization values diversity and lives it through its culture and actions. These personal statements can help diverse job seekers feel that someone with their identity will be welcomed, supported, and successful in the workplace.
3. Improve your recruitment website
If your organization is committed to diversity, your recruitment website needs to follow through on that commitment. This requires more than splashing a diversity statement somewhere. Eliminate coded language, gender bias, and insider jargon. Use your recruitment system to make sure your site is easy to use and is accessible to people with diverse abilities, linguistic competence, and access to technology.
4. Cast a wider net
To improve your workforce diversity, you need to diversify your recruitment sources. Don't abandon the sources that have worked. Instead, expand your efforts. Add even more career fairs, job boards, media outlets, networking events, and affinity groups, targeting those that attract diverse candidates by design.
5. Tap into your team's network
Word of mouth is still one of the most effective recruiting tactics. According to a 2015 study, when employees recruit within their network, workforce diversity can improve. What matters is that the employer keeps track of word-of-mouth referrals so that one group doesn't dominate over time. Employers can also encourage employees to spread the word to candidates with diverse backgrounds.
6. Share your jobs in surprising ways
To recruit a more diverse workforce, go beyond the predictable job boards. Create a video or animation to show off your job opportunities and diverse workplace culture. Grab the attention of more people by sharing jobs through newer social media, like Instagram and Snapchat, or by braving live streaming video. Attend in-person community events where you can connect with people who otherwise wouldn't have heard about your job opportunities.
7. Bring your campus recruiting to other schools
Look beyond elite colleges to schools that have an economically and socially diverse student body. Recruit at schools that are committed to keeping education accessible and affordable and that have diversity integrated into their identity. This can include historically black colleges and universities, hispanic-serving institutions, women's colleges, public and community colleges, and schools with cooperative education programs.
8. Recruit through refugee, immigrant, and community groups
Workforce diversity often means embracing non-traditional talent. Recruiting refugees, immigrants, and people from distinct groups can be a boon for employers committed to diversity. Look for community groups, government agencies, staffing firms, and adult education centers in your area that match job seekers with employers.
9. Mesh diversity with cultural fit
Diversity is more than how people look. Cultural fit is more than hiring people who think and act the same. Truly diverse and culturally vibrant workplaces will include people of different demographics, identities, backgrounds, experiences, abilities, and personalities. The key is to recruit people who are united by the values of the organization, and who can contribute to the organization's success.
---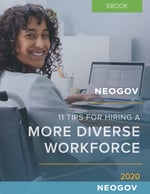 Want more detailed best practices for integrating diversity into your recruiting and hiring approach? Download our free eBook 11 Tips for Hiring a More Diverse Workforce: