More than a decade ago, the Pew Research Center coined the term "silver tsunami" to describe the anticipated retirement of Baby Boomers. Although the mass wave of retirements was projected to hit government in 2011, the recession put many of these retirement plans on hold. This gave government agencies a bit of respite, but now, according to a number of reputable sources, the long-awaited silver tsunami may have finally arrived.
Below are 9 telling stats showing Silver Tsunami may be here.
1. More than half (54%) of state and local governments reported an increase in retirements between 2014 and 2015.
2. The percent of retirement-eligible government employees who are delaying their retirements continues to decrease (21% in 2015 vs. 46% in 2009).
3. 16% of retirement-eligible government employees accelerated their retirement date in 2015, according to the Center for State and Local Government Excellence survey.
4. Roughly 31% of career federal employees will become eligible for retirement by September 2017, finds the 2014 GAO report.
5. According to the Bureau of Labor Statistics, by 2022, more than 25% of US workers will be 55 years old or older, up from 14% in 2002.
6. According to a 2014 IPMA-HR benchmark survey, four out of 10 public sector HR practitioners' organizations could lose 20% or more of their employees to retirement within the next 5 years.
7. State and local government HR managers continue to rank recruiting and retaining qualified personnel (92%), succession planning (80%), and staff development (79%) as the most important workforce issues facing their organizations.
8. Eight in 10 employers (both public and private sector) said their organizations lose experience, institutional knowledge and leadership when an older worker leaves finds the LIMRA Secure Retirement Institute survey.
9. Anywhere from 30% to 40% of state workers are eligible for retirement, according to Leslie Scott, executive director of the National Association of State Personnel Executives, as quoted in this Pew article.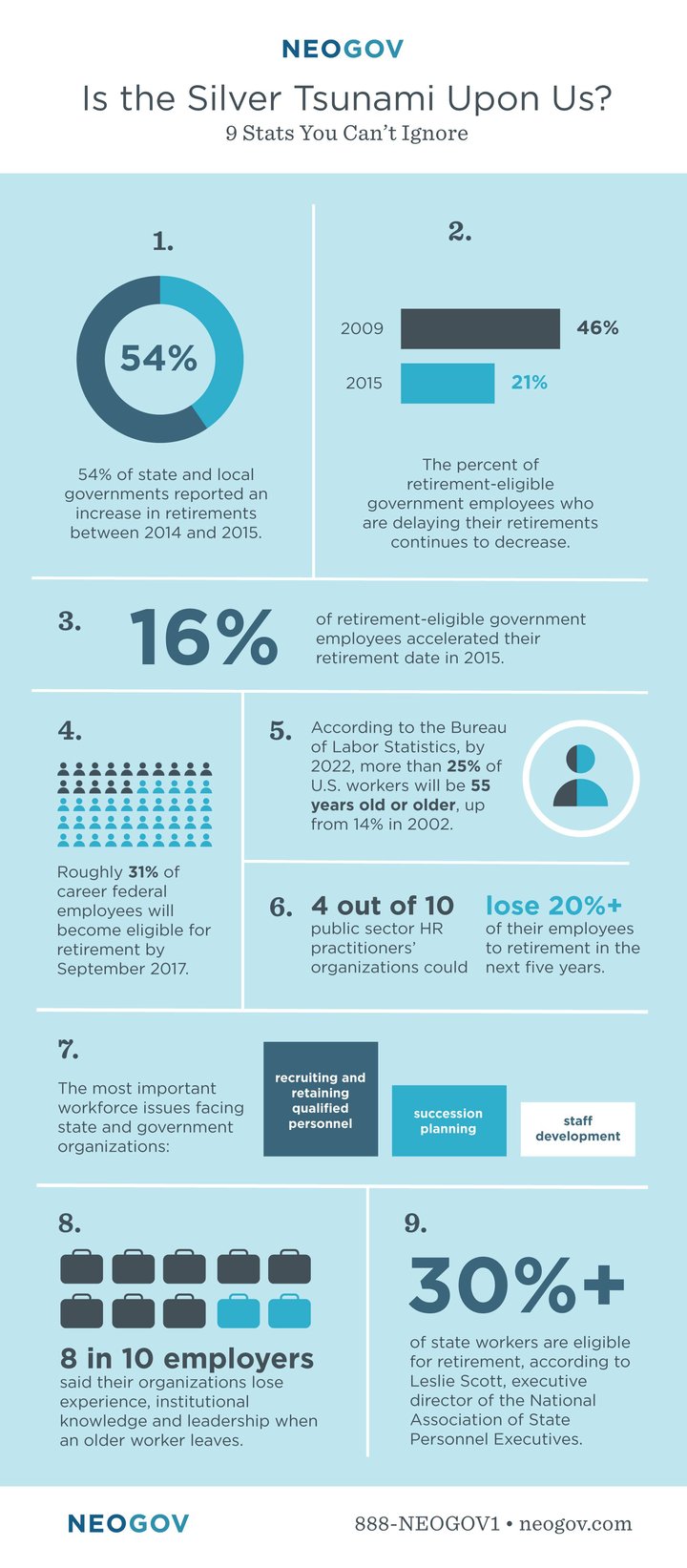 Delayed retirements were supposed to be a blessing for government, allowing them to retain their most experienced workers and put in place succession plans. However, there's been a lot of evidence in the past five years that the public sector is still largely unprepared to deal with the silver tsunami of Baby Boomer retirements. If the above statistics are correct, and these workers are finally beginning to retire, it could cause a massive shortage of skilled public workers with deep institutional knowledge. With that in mind, what can and should HR be doing now to prepare?
1. Succession planning: Local governments are employing a number of tactics to develop succession plans.
In San Mateo County, California, a succession planning task force was developed that allowed for confidential discussions between employees and managers about retirement plans and the best ways to transfer knowledge. According to Donna Vaillancourt, the county director of HR, this "allowed the employee and the manager to work together to identify what skills are important and how they let the next person taking the job know them before the person leaves."
In Fort Collins, Colorado, the utilities department began conducting pre-retirement exit interviews with staff to document contacts, relationships, resources, day-to-day information, and other tools necessary to work in that specific position.
2. Staff development: In places like Hennepin County, Minnesota, Multnomah County, Oregon, and El Paso, Texas, internal candidates receive leadership skills training to ensure that they are prepared to take on empty Boomer positions. Many government agencies have implemented performance management software and mentoring programs to help younger employees gain the knowledge necessary to move into vital roles.
3. Recruitment: Organizations need to focus on recruiting younger workers who can be trained and mentored to eventually fill positions vacated by retiring Boomers. Some government agencies have found success in utilizing government's purpose—serving the public—to promote their jobs to Millennials who are looking for a place to make a difference. Others are streamlining the hiring process, promoting applying with government recruitment software with mobile capabilities, and revamping internships to create a pipeline of good potential employees.
While recruiting younger workers, it's worthwhile to also consider recruiting retired workers to help fill a knowledge gap. This, of course, requires a culture change in HR that recognizes the value of more experienced employees in specific tasks, even if they will only be on the job for a short period of time.
4. Retain older workers: Back in 2012, the feds approved a phased retirement plan to give employees the opportunity to work part-time after reaching retirement age. The caveat was that 20% of the worker's time must be spent mentoring replacements.
Another way to retain older workers is to offer more flexible work schedules that let them stay on the job and attend to their own personal issues, such as caring for an elderly parent. Boomer flex schedules might also include the opportunity to take extended leave without penalty. Even in-office benefits—such as ergonomic workspaces and new educational opportunities—can be attractive. And moving Boomers to tasks that take the greatest advantage of their skills helps them feel valued but also allows younger workers to begin taking the reins on other projects.
The most important takeaway for all HR agencies is that if you haven't begun thinking about how your organization will deal with the silver tsunami, start today. And if you've already begun recruiting new workers or succession planning, ramp up your efforts and ensure that key pieces of knowledge are being transferred before a Boomer's last day on the job.