Attracting Millennials to government work isn't always easy, especially when there are higher-paying private sector positions with better benefits. Government may not be able to compete in these areas, but there are other ways you can build a next generation talent pipeline.

1. Embrace technology: Gallup reports that 71% of Millennials use the Internet as their number one source of information, and 85% of them access the Internet from their phones. Posting job openings to online job boards and on social media sites will help you get in front of these digital natives. If you aren't already using one, consider moving to an online application and hiring system, or update yours to include push alerts to candidates as their applications move through the system. And while you're making these enhancements, clean up your organization's website so that it appears modern and is mobile-friendly.
2. Build your reputation: Don't just get candidates interested in you during the hiring process, share the awesome details about your organization every day. Use your website or social media to promote videos featuring "day in the life" stories about your employees, ask your staff to write blog posts about interesting new projects, or share findings of recent studies and programs that would interest Millennials. Providing insight into what you do starts building that interest and attachment to your organization that you'll need when hiring begins.
3. Tap your current employees: If you have Millennials in your organization, consider creating a program similar to North Carolina's Young Employees Initiative in which the state has created an advisory committee of 18- to 29-year-old employees who provide recommendations on issues important to them and their peers. Use these suggestions as you create your job postings and promote your organization.
4. Focus on the motivators: Many Millennials are attracted to jobs that allow them to give back to their communities or to make a difference, which are intrinsic elements of government jobs. In fact, according to Forbes, Intelligence Group studies have found that 64% of Millennials say it's a priority for them to make the world a better place. As you write your job postings or speak to potential candidates, focus on the social benefits of public service and explain how the candidates can contribute to the organization's mission and have an impact on the world around them.
5. Establish an internship program: A great way to build interest in your organization is through an internship program. It's also a fantastic way to look for and start training potential new hires. If you can, provide at least a small stipend to your interns and ensure that they are doing meaningful work that allows them to explore the different facets of your organization and feel that they are truly contributing to the team.
6. Rewrite your job descriptions: Look around at how other organizations write their job descriptions, especially private sector companies that are in a similar field (ie technology, community services, HR, etc.). Get together a group of staff who either have held the position you're hiring for or who have experience with that position, and craft a message that truly speaks to the essence of the job, rather than just the day-to-day mundane duties. Focus specifically on the impact that staff in your organization have and the opportunities they are given. Be sure your postings are free of jargon and help connect the candidate to your mission.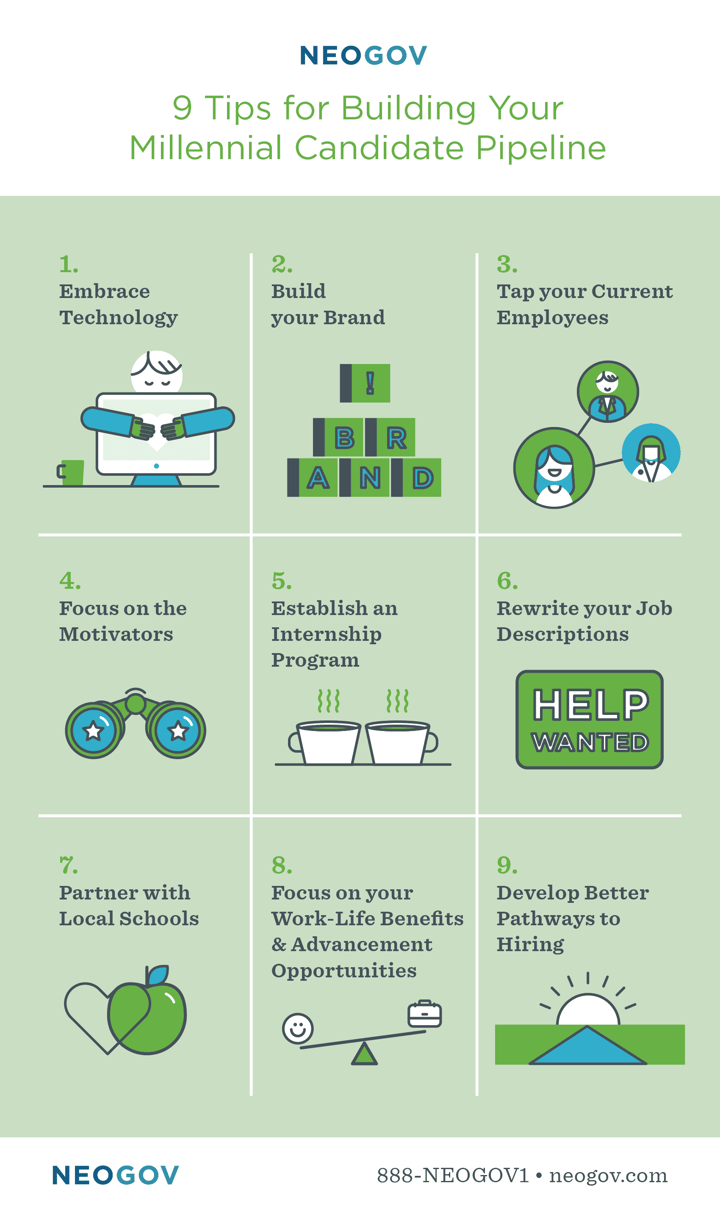 7. Partner with local schools: Participate in career fairs at the high school and college level to build interest in a career in government. Conversely, hold a reverse career fair, where counselors, deans, or even students are invited to your organization to learn more about career opportunities. Speak with the professors who teach the classes that best align with the skill sets your organization frequently seeks, and see if you can schedule time to speak to the students in those classes. Or, build a fellowship program that partners with your local colleges and universities to pair recent graduates with specific teams in your organization.
8. Focus on your work-life benefits and opportunities to advance: Although pay and financial benefits drive Millennials' career decisions, the Deloitte 2016 Millennial Survey finds that when those factors are removed, Millennials want flexible work schedules, work-life balance, and opportunities to take on leadership roles. In your job postings, on your social media sites, and as you speak to potential candidates, describe the non-monetary benefits of working at your organization. Or, better yet, ask your employees to do it for you.
TWEET: Millennials want flexible work schedules, work-life balance, and opportunities to take on leadership roles.
9. Develop better pathways to hiring: The private sector generally outpaces the public sector when it comes to hiring. Some jobs take months to move from application submission to interviews, leaving Millennials looking for employment elsewhere. Rather than the candidates you want, you'll end up with the leftovers who haven't been hired somewhere else already. And those desirable candidates might be turned off by the government hiring process and may not return when a position opens in the future.
Depending on your organization, changing job descriptions or speeding up the hiring process can be difficult and require layers of approval, so start by focusing on those things you as a hiring manager can control. Get your jobs on social media, elevate your organization's profile in both your physical and online communities, and start talking about the feel-good aspects of public sector work. Getting Millennials hooked on government can help you choose the right people—with the right motivations—for government work.