The U.S. unemployment rate has been holding at less than 4 percent for almost a year, during which time it hit a record low. Combined with rising retirements and an aging government workforce, this has created a highly-competitive job market for anyone searching for qualified new hires.
Public sector leadership is feeling the pressure. According to the Center for State and Local Government Excellence, 82 percent of state and local governments said that recruitment and retention is an important workforce issue in 2018. A few years ago in 2012, only 40 percent were concerned about recruitment and retention.
To amplify recruitment and retention, public sector employers need to do more than post the same kinds of job descriptions and hope the best candidates apply. Organizations need to understand what job seekers want, and take action to attract people to a career in public service.
Why do people apply for jobs for the public sector?
There are certain qualities of public sector employment that some people already find appealing. According to the 2019 Job Seeker Report, people who have applied for government jobs said they are most motivated to do so because of the sector's job security—with benefits packages, the chance to do meaningful work, and the opportunity to serve the community also getting top marks.

Potential job security is something organizations can draw attention to in order to boost their recruitment efforts. A study by the Center for Retirement Research at Boston College showed that, even through the 2007–2009 Great Recession, state and local government careers provided greater job security than those in the private sector.
Government job security isn't simply a result of public policy and employee protections, though those are key factors. People are also able to keep their jobs through good times and bad when their job performance is high. Public sector organizations can appeal to candidates by showcasing the training, resources, and support they provide to employees so they can perform their jobs better.
As the Human Resources Director of Kitsap County in Washington state, Nancy Buonanno Grennan has overseen the organization's efforts to rethink how it hires people. She said, "We were trying to hire for the experience level of the person exiting the organization, which wasn't realistic. As retirements increase, we've learned we have to train the people we hire. Our niche is as a training ground for people who have less experience, which also allows us to capitalize on our strength as a learning organization."
What can improve retention of government workers?
One of the most efficient ways to minimize the number of new hires at an organization is to reduce the number of people who leave. While NEOGOV found that a higher salary was the top reason people pursued a new job, close behind in the survey were people's interests in skill improvement and in finding a job more in line with their education.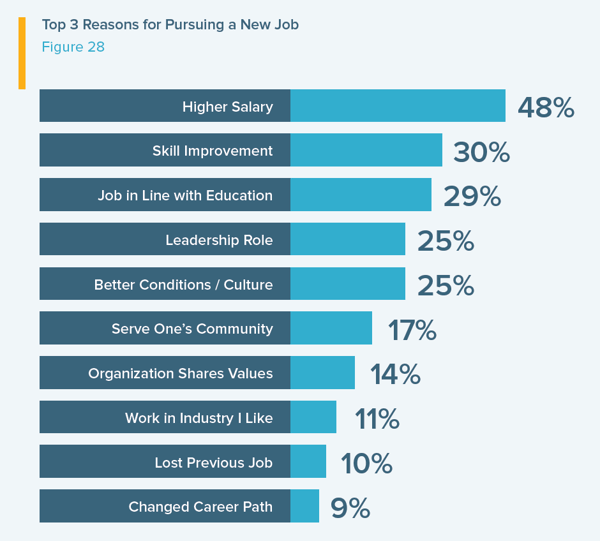 Kitsap County has piloted programs aimed at giving people skill and education opportunities to increase job satisfaction and retention. Buonanno Grennan described the motivation behind one of the programs: "When our employees told us they wanted to get a higher education, we realized we couldn't afford tuition reimbursement. But, we could advance people money for tuition, interest free if they paid it back on schedule. If you want a loyal employee, you have to find creative ways to invest in them. It turns out that it's fairly inexpensive to do so."
What would entice people to switch to the public sector?
In today's tight job market, human resources needs to make public service appeal to people who have never worked for government before. As NEOGOV observed in its Job Seeker Report, these people are primarily looking for a competitive salary and benefits package.

But, salary is a tough place for the public sector to compete. In 2018, the Economic Policy Institute found that state and local government workers earn between 3.7 and 8.2 percent less than their private sector counterparts. Benefits, however, are one way public sector employers can stand out in the job market.
Raising awareness of benefits has become part of Kitsap County's recruitment strategy. "Where we can't increase salary, we entice people with what we do have to offer," said Buonanno Grennan. "Scheduled promotions. Shorter commutes. Work-life balance. Time with your family. Our salary may be lower, but when we explain the other benefits of working for us, people see our jobs as worth considering."
Taking action to attract top candidates
Public sector organizations need to try a variety of new strategies to attract talented job candidates and hold on to the workforce they already have. NEOGOV's 2019 Job Seeker Report includes even more data on what people want from their career, and what public sector employers can learn from those insights.