Did you know that the average public sector time-to-hire was 119 days – almost four months – in 2018? This was compared with 36 days in the private sector, according to SHRM. It's a consideration that's worth examining to see if your jobs are getting the best candidates.
There are several metrics you can use to measure how well your organization is doing when it comes to efficient recruiting and hiring processes. The first is time-to-hire, or the amount of time it takes an organization to fill a position from the date the requisition is created until the date a candidate starts the job.
Generally speaking, time-to-hire is calculated using calendar days (including weekends) as opposed to business days. In the time-to-hire evaluation, there can be up to 11 stages, depending on your hiring process: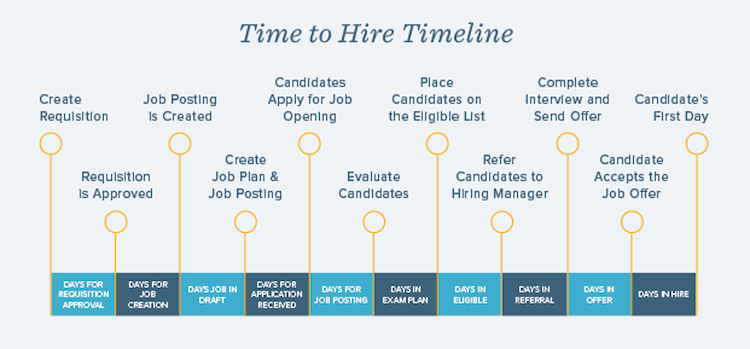 Requisition is created
Requisition is approved
Writing of the job posting begins
Stakeholders create a plan for the job and it is posted
Candidates begin applying for the job
Stakeholders begin evaluating candidates
Approved candidates are moved to the eligible list
Candidates are referred to the hiring manager
Interviews are completed and an offer is made
A candidate accepts the offer
The new employee starts their first day
When the hiring process takes too long, you risk losing the best candidates to other opportunities they're considering. This is especially true if you're looking to attract talent from a wide variety of backgrounds, including those who have never worked in government before and are more accustomed to shorter time-to-hire periods that are offered in the private sector.
If you feel your agency's time-to-hire is hindering your ability to attract and retain the best talent, you should examine each milestone – such as those above – in the time-to-hire process for any bottlenecks. This will let you know where you need to make changes to your process. For example, if the process is snagging for days during the stages between the job being posted and an acceptable amount of qualified candidates applying to the job, you may need to change the criteria of the job qualifications or address a problem in the attractiveness of the position (pay, benefits, hours, etc.) in order to move more efficiently through the hiring process.
A longer time-to-hire not only increases the risk of losing out on top candidates, but your agency may suffer a slowdown in productivity and/or burnout of employees who are forced to carry the slack of the vacant opportunity.
Analyzing public sector time-to-hire data closely will give HR valuable insights into where the process is broken, and can be used as great leverage when making the argument for modernized, streamlined processes, such as those supported by a digital applicant tracking system.